Things To Do in Wellington

Wellington Wine Cellar

Wine Tours & Tasting Cape Winelands

Where? Lady Loch Road, Wellington, Cape Winelands, Western Cape, South Africa

When? Monday to Friday from 08h00 to 13h00. Saturday from 14h00 to 17h00.

How? Call +27 (0)21 873-1163

How much? Falls into price group R1 to R100 per person. Confirm with the provider.

Overnight? Stay at accommodation in Wellington, in Western Cape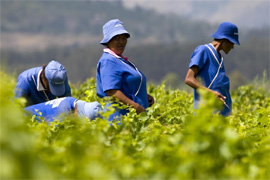 The Wellington Wine Cellar greets you as you enter the town of Wellington. The cellars history dates back to 1941 when a group of grape farmers in the area decided to have a central cellar where they could press their grapes.
There are a number of ranges at the cellar and each range tells a different story of a proud history. The grapes are specially selected and only the best are used, they are then processed using meticulous methods.
Come and share in this wonderful experience from the 39 members of the cellar, you'll enjoy every minute of it.
To view more wine estates in the region see Wellington Wine Estates or see South Africa Wine Estates for a general overview and links to other wine producing regions.