Western Cape and Cape Town Things To Do
Franschhoek by Saddle (Franschhoek)
Categories: Horse Riding / Wine Tours & Tasting
Price group: R201 to R500 per person (see other things to do in this price group)
Available in the following region(s): Cape Winelands
Stay Overnight: See Franschhoek accommodation, in Western Cape
Address: Paradise Stables, Robertsvlei Road, Franschhoek.
Telephone: +27 (0)21 876-2160
Opening hours: By arrangement only. Daylight hours only.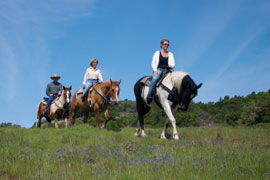 Novice rider? A little stiff on a horse? The perfect solution... wine.

Combine a little delicious wine tasting as you ride on horse back through the paradise of the Franschhoek wine valley and you'll look like got your first pony on your 3rd birthday. The wine knowledge consumed on the outride along with the 'grape juice' of the Heavens might also have you coming across as a seasoned wine connoisseur who incubated a home cellar before your legal drinking age so that on the very day you celebrated this legal drinking birthday, the vintages were ripe for the occasion. Pony and cellar aside you can enjoy a splendid horse ride through the Franschhoek region with or without wine tasting.

The stables are aptly named Paradise Stables and the horse-riding tours will lead you on a scenic exploration through vineyards, forests and mountains. For R200 per person (double fee for a private outride), the guides will take you on a beautiful tour of Franschhoek (no wineries are visited). Experienced children over the age of 12 are welcome. Pack a picnic and enjoy the valley life. The wine tasting horse rides are R550 per person and the riding time is about two and a half hours with a half hour wine tasting stop at two local wineries, Rickety Bridge and Mont Rochelle.

You will ride on purebred Arabian horses under the care of local 'horse whisperer' and SA National Team Endurance Rider (Springbok), Pieter Hugo, who with his natural gift for horses has never had a lesson in his life. Outrides for beginners are 'out walks' technically with a gentle walk on horseback giving you a breathtaking view over the wine region from an elevated vantage point of the saddle and the off course mountain routes of the trails. Experienced riders are grouped together so that they can giddy-up off into the sunset for their pleasure at their leisure. Saddle up and enjoy!
Why Not Overnight?
Find Accommodation in Franschhoek
Three Cities Le Franschhoek Hotel and Spa is situated in the picture perfect area of Franschhoek. Surrounded by the very beautiful Cape Winelands and within easy reach of other popular destinations such as Stellenbosch and Paarl, this luxurious hotel is an all round winner. Housed in a contemporary ...
At Heuwelsig Farmhouse meaning, 'farmhouse with views over the hill', you can unwind in style and make yourself at home in the warm ambiance and generous spaces. Enjoy the sunset on the wide veranda with spectacular mountain views, put your feet up and read that book that you ...
Related Pages
Travelling to Franschhoek
• Things to Do in Franschhoek
• Franschhoek Attractions
• Franschhoek Hotels
• Franschhoek Accommodation