KwaZulu Natal Things To Do
Categories: Family Entertainment / Parks & Gardens
Price group: R1 to R100 per person (see other things to do in this price group)
Available in the following region(s): Natal Midlands
Address: Park Avenue (just off N3 Highway), Pietermaritzburg.
Telephone: +27 (0)33 345-1348 or +27 (0)33 142-2970
Opening hours: Daily.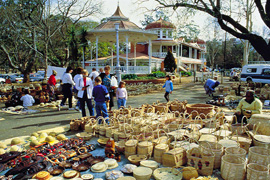 Pietermaritzburg is named as the 'Garden City' and Alexandra Park is named after Queen Alexandra, wife of Edward VII. The park's plush 65 Hectares of colour was established in 1860 and rooted itself as the social activity centre for many decades.

The spectacular park is still an outdoor social green gathering spot today annually showcasing Art in the Park - the largest outdoor exhibition in South Africa, showcasing African artists; Cars in the Park - all wheels vintage and future ; 'Martizburg Fantasia - Christmas night market; and Alex and Oval Sunday markets bringing festivities and blossoms together.

The Cricket Oval with its fascinating Victorian Pavilion is a national monument with a 'chinoiserie' Band Stand, it hosts cultural city events regularly and is adjacent to the Mayor's Garden. The Umsindusi (Dusi) River forms a natural Park boundary with an avenue of mature Plane trees growing parallel to the meandering water and Jacaranda trees fringing the floral fantasies, all losing great leaves for kids to toss skyward or crush.

Two beautiful cast iron bridges span the river which can be criss-crossed via footbridges. Aloes, Azaleas, Agaves, Bougainvilleas, Cape Chestnut trees, a conservatory, Cyads, flowerbeds, a Palm Tree avenue, a rose garden, rockeries, succulents, Weeping Boerbean trees and Yellowwood trees are scattered together with indigenous flora throughout this stately garden. A braai (Barbeque) can be enjoyed in the park as well as a Sunday lunch near the cricket pitch. Swimming, cycling and soccer facilities are provided.
Why Not Overnight?
Find Accommodation in Pietermaritzburg
Jean-Lee Guest Cottages offers accommodation in well appointed rooms to suit your needs. Laundry, evening meals and self-catering are available on ...
Home From Home B&B is situated in the quiet suburb of Hayfields on the Durban side of Pietermaritzburg. There are also many public and private ...
Related Pages
Travelling to Pietermaritzburg
• Pietermaritzburg Attractions
• Pietermaritzburg Map
• Things to Do in Pietermaritzburg
• Pietermaritzburg Hotels
• KwaZulu Natal Accommodation