KwaZulu Natal Golf Courses
Sakabula Golf Course, Howick
Designed by
Gerrie de Jong
Type
Parklands Golf Course
Holes
18
Par
73
Fairway Grass
Kikuyu
Greens Grass
Kikuyu
Length
TBA (Ladies: TBA)
Telephone
+27 (0)33 330-6751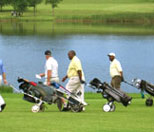 Sakabula Golf Course, Off Underberg Road, Merrivale, Howick, Natal Midlands, KwaZulu Natal / Sakabula Golf Club is a unique combination of agricultural smallholdings around a delightful 18-hole, par 73, golf course in a scenic rural environment.

Sakabula Golf Club, situated in the KwaZulu Natal Midlands, is an 18 hole, par 73 course consisting of two very distinct and different 9 holes. The first 9 holes traverses an undulating valley providing breathtaking scenic views over the Drakensberg Range. The second 9 holes wind along a stunning natural watercourse and wetland area with numerous dams. The two 9's are so interestingly different in character and challenges that the golfer can experience what normally could only be found on two different golf courses.

At the end of June 2007 the club celebrated its first very successful ten years. In that time the course has matured into a wonderful country golf club that provides a real test of golf in a relaxed and friendly, rural environment. Its location, just 15 minutes from Pietermaritzburg, 60 minutes from Central Durban and 45 minutes from Mooi River, makes it readily accessible to golfers from all over KwaZulu Natal. The course is fully electrically fenced and offers security to golfers.

Sakabula Golf Club has several interesting features including a large indigenous paperback thorn tree that stands on the 14th green. The long 500 metre par 5 at the 5th hole, all uphill, is considered a real test of stamina by many golfers. The 10th hole tee start is managed by a traffic light that is manually switched back to green by the golfer as he clears the area that was unsighted from the tee box. It is interesting to note that Sakabula is the only par 73, rated 73 golf course in KwaZulu Natal.

Stay overnight
Find accommodation in Howick (by location map) or see Howick Accommodation (with preview images and description). Consider Howick Hotels (ranging from 3-5 star) or if you prefer to do it the self catering way, you will find our comprehensive list of Howick Self Catering options useful. Also see Natal Midlands Accommodation and Natal Midlands Hotels for overnight options in surrounding towns or see KwaZulu Natal Accommodation and KwaZulu Natal Hotels for a place to stay in other towns and cities in the KwaZulu Natal.

Did you know?
A challenging, yet friendly course, to be enjoyed by all golfers. The local community has benefitted immensley from the development of the golf course with many locals being trained as caddies.
golf courses in kwazulu natal