Just on the other side of Route 622, which links Mooi River with Greytown, from the Karkloof Nature Reserve you will find Craigie Burn Nature Reserve and Dam. The dam is touted as a beautiful fishing spot in ...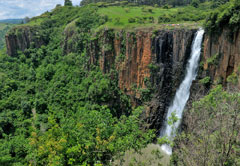 Howick Falls' other name is KwaNogqaza, the 'place of the tall one', for obvious reasons – the waterfall is a 95 metre cascade into a broiling, restless pool, regarded by the local Zulus with grave ...
The Gorge Walk at Howick Falls is probably one of the best ways to see some pretty spectacular views of the falls and the gorge, through which the uMngeni River flows, some 20 kilometres north of ...
The Khyber Pass lies roughly 20 km north of Howick, off the Curry's Post Road. Travel for 18 km along Curry's Post Road, taking a left at both forks. Then take a right just before Curry's Post Primary School ...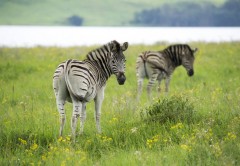 The large stretch of fresh water from the uMngeni, coupled with 1000 hectares of game park that contains red hartebeest, blesbok, reedbuck, black wildebeest, oribi and zebra, is what makes the Midmar Dam ...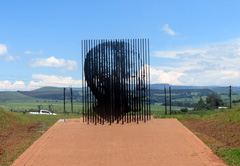 The Nelson Mandela Capture Site is a cultural and historical exhibition that is situated at the site at which Nelson Mandela was apprehended for his anti-Apartheid activism acts in August 1952. Mr Mandela had ...
Sakabula Golf Club is a unique combination of agricultural smallholdings around a delightful 18-hole, par 73, golf course in a scenic rural environment. Sakabula Golf Club, situated in the KwaZulu Natal ...
In the heart of the KwaZulu Natal Midlands lies a valley created by the Umgeni River, after cascading over the majestic Howick Falls. The greater part of the Umgeni Valley nature reserve lies in the ...