Things To Do in Lamberts Bay

Sir Lambert Wine

Wine Tours & Tasting Cape West Coast

Where? Off R364, Lamberts Bay, Cape West Coast, South Africa

When? Please enquire

How? Call +27 (0)27 213-2377

How much? Falls into price group R1 to R100 per person. Confirm with the provider.

Overnight? Stay at accommodation in Lamberts Bay, in Western Cape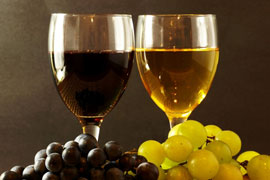 Sir Lambert Wine is only 3km from the sea at Lamberts Bay. The 10 hectares of vines produce one red and one white - a Shiraz and a Sauvignon Blanc. The close location to the sea and the cool breeze that comes off it influences the flavours of the wine quite considerably making the wine unique.
The name comes from the commander of the Cape Town Naval Station, Admiral Sir Robert Lambert, from the early 1820's. Lamberts Bay was named after this adventurous spirit who made his way up this rugged coastline in 1926 in order to map it out. The Sauvignon Blanc was awarded a gold medal at it's debut at the Michelangelo International Wine Awards.
The grapes are hand picked early in the morning by locals in the area to ensure that the unique characteristics of this cool climate are retained.