Things To Do in Philadelphia

Philadelphia Pottery

Arts & Crafts Miscellaneous Cape West Coast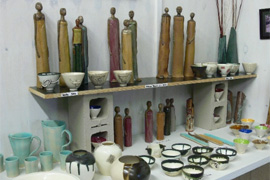 Philadelphia Pottery is situated in a small village called Philadelphia, about 30 km north of Cape Town on the N7 to Malmesbury. The pottery leads into the Pepper Tree Art Stable, which consists of an art gallery, a glass studio, a handmade leather shop as well as a jewellery shop. The restaurant features live music on Sundays. Patrons can paint bisqueware with underglaze while enjoying a drink at the restaurant. These items are glazed and fired to be collected 2 days later. Raku firing demonstrations are given on a regular basis.