Things To Do in Mossel Bay

The Point Beach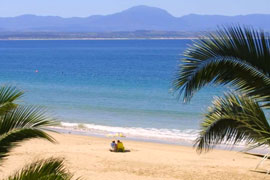 The Point Beach in Mossel Bay is a stunning beach with a bucket load of atmosphere and stacks to do. Enjoy a walk along the rocky coastline or for a bit more of a challenge join up with the 15 kilometer St. Blaize Hiking trail which takes you to Dana Bay.
Two spectacular tidal pools are available to swim in, a smaller one on the beach, alongside rock pools ready to be explored and another large natural tidal pool in front of The Point Hotel.
Many bars and restaurants litter the area, spoiling you for choice. Many of them are popular hangouts for beach goers and surfers after a day of sun, sea and surf.
There are lots of family attractions in the area surrounding the beach and a day at The Point beach soon turns into so much more.