Things To Do in Knysna

Shop at the Knysna Friday Market

Cafés & Eateries Farm Stalls & Markets

Where? Off Welbedacht Road, Knysna, Garden Route.

When? From 16h00 to 20h00 every Friday.

How? Call +27 (0)44 382-5316

How much? Free to browse

Overnight? Stay at accommodation in Knysna, in Garden Route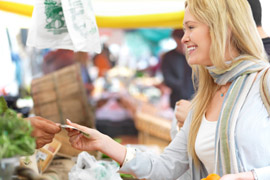 As the name suggests, the Knysna Friday Market takes place from 4pm to 8pm every Friday night. What a perfect way to end the week; pack up the kids and head out to the market site to meet up with friends.
A wide array of food is available from pizza and pancakes to a Thai dish from the Thai Kitchen. A bar is available so you won't go thirsty! Gather up your friends and enjoy Friday night at the Market - it will probably become a regular feature on your weekly calendar.