Things To Do in Knysna

Snorkelling With Seahorses

Family Entertainment Sports & Leisure Water Sport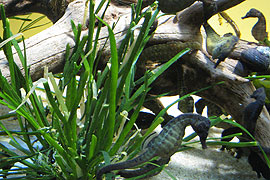 Take a trip to Knysna and go snorkelling with the very charming Knysna seahorses. These brownish creatures are irresistibly cute and a must visit while in the area.
An experienced diver will take you to the best spot at high tide where you can view these magnificent groups of seahorses in their natural habitat on the sea bed, clinging to plants with their monkey like tails.
With seahorses, it is the male who looks after the eggs and gives birth to their young. The mothers simply lay their eggs in the males pouch. If you are diving there at the right time you may be able to witness the birth or even spot the seductive courtship dance that takes place when establishing your mate.
This is certainly an unforgettable diving experience with much to learn and see. All equipment is provided for your snorkelling experience.