Things To Do in Vleesbaai

SeaHorse Eco Safaris

Where? Vleesbaai (near to Mossel Bay), Garden Route, Western Cape

When? Booking is essential.

How? Call +27 (0)79 883-5386

How much? Price on request

Overnight? Stay at accommodation in Vleesbaai, in Garden Route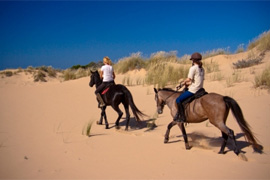 In the heart of Vleesbaai, visitors can enjoy scenic rides that are, at the same time, educational, while indulging in the peaceful rocking of the horse.
A number of packages are available; ranging from day rides to seven-day yoga rides and plenty in-between. Such variety ensures that there is something for everyone.
For utmost exclusivity and to ensure that visitors and horses both benefit from the experience, a maximum of four riders are permitted on any one package. The horses take their riders through coastal thicket and over impressive sand dunes, showcasing the unspoilt beauty of this serene part of the country.