Things To Do in Sedgefield

Gerickes Point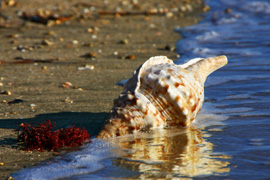 At Gerickes Point you can see some of the highest fossil dunes in South Africa and there is a great 4km hike to the point and back. The point itself offers an amazing vantage point to gaze out into the sea and just enjoy the beauty of the ocean but it is even better during whale season when the mothers play in the waves with their calves. The point is home to a resident school of Humpback dolphins so best keep your eyes open for this treat!
During low tide the ocean peels back to reveal the secrets hidden in the tidal pools and it is a great adventure for both young and old to see what sea creatures are revealed when this blanket of water is removed. You will also find a number of larger pools which provide a bit of depth and are perfect for swimming or snorkeling, so donít forget your goggles!