Things To Do in Port Alfred

Port Alfred River Cruise

Cruises Sight Seeing Wheelchair Friendly Sunshine Coast

Where? Outdoor Focus, Kiddies Beach, Beach Road, Port Alfred

When? Seven days a week from 08h00 to 17h00.

How? Call +27 (0)46 624-4432

How much? Price on request

Overnight? Stay at accommodation in Port Alfred, in Eastern Cape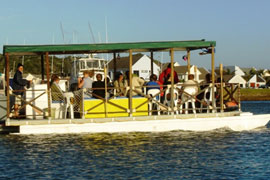 Our cruises leave from the Small Boat Harbour in Port Alfred, taking you up the scenic Kowie River. Our cruise trips are one and a half hours in duration and braai trips of approximately four hours can also be arranged on request.
River Dreamer is a 9m long barge that can seat 35 adults, she has a 100% waterproof roof and has a toilet on board. She is safe for all ages and we can accommodate people with disabilities.