Things To Do in Port Alfred

Fishing Cruise

Fishing Water Sport Sunshine Coast

Where? Small Boat Harbour, Port Alfred, Eastern Cape

How? Call +27 (0)46 624-4432

How much? Falls into price group R201 to R500 per person. Confirm with the provider.

Overnight? Stay at accommodation in Port Alfred, in Eastern Cape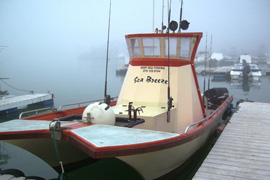 Fancy yourself a fisherman? This fishing charter will take you through the Kowie River Mouth to our fishing reefs in front of Port Alfred where qualified and experience skippers will help you to learn the finer details of fishing!
Rods, reels and bait are supplied - you will be responsible for bringing warm clothing, a hat, sun block, snacks and drinks.
Bag limits apply - you will be allowed to keep what you catch but please remember that you will need to be in the possession of a valid fishing licence (obtainable from any post office)..