The vast Balule Game Reserve is adjacent to the Kruger National Park, home to the Big Five and world famous for its abundance of wildlife and birdlife. In the Balule Game Reserve you will find the Big Five ...
Hoedspruit is a small town that is nestled between the Kruger National Park and the spectacular Blyde River Canyon. While little, it welcomes many tourists every year, thanks to its natural splendour and its ...
Thanks to its prime position as a neighbour of the world-renowned Kruger National Park, Guernsey Private Reserve is acclaimed for its variety of wildlife and its absolute, untainted beauty. This private ...
The Hoedspruit Endangered Species Centre (HESC) is a sanctuary for animals. It conserves rare, vulnerable and endangered animals and is home to cheetah, wild dogs, black-footed cats, African wild cats, ground ...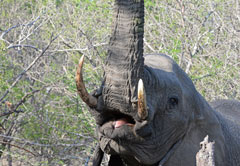 The Hoedspruit Wildlife Estate is a conserved area with a reserve that is home to a fabulous array of plants and animals. Impalas and kudus graze peacefully, while stocky warthogs keep their noses close to the ...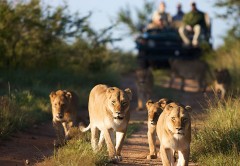 Kapama Game Reserve is situated in the Limpopo Province, South Africa and was proclaimed a private nature reserve in December 1993. Covering approximately 13 000 hectares of prime big game territory, Kapama ...
South Africa's fourth largest Cape Griffon vulture colony roosts on the sheer cliffs of the Drakensberg escarpment near the JG Strijdom Tunnel on a farm called Manoutsa. Vultures need cliffs in order to breed, ...
The Mohlabetsi Conservancy lies on the western boundary of the Kruger National Park, part of the greater Kruger Park area that borders on the Klaserie Game Reserve, just outside Hoedspruit. Staying in the ...
Moholoholo Rehabilitation Centre is a sanctuary for abandoned, injured or poisoned animals. Amongst these are lions from an Egyptian circus, leopards, wild dogs, cheetahs, poisoned vultures, crowned eagles and ...
Selati Game Reserve lies on roughly 30 000 hectares of land west of the Kruger National Park, between the towns of Gravelotte and Mica, north of Nelspruit. Proclaimed as a conservancy in 2003, Selati is a ...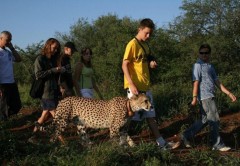 The family-owned Tshukudu Private Game reserve is situated in the Central Lowveld near Hoedspruit and adjoins the Greater Kruger National Park. The reserve is easily accessible and close to the attractions and ...
Nestled in the luxurious natural settings of the Limpopo Province, Umhlametsi Private Game Reserve is bordered by the World famous Kruger National Park. The two non-perennial rivers that majestically meander ...