Nuwerus, Cape West Coast
The hamlet of Nuwerus lies at the intersection of the N7 and Route 363 between Garies and Vanrhynsdorp, just south of the equally small Bitterfontein.
It's described by those who live there as a little, country town within an area known as the Hardeveld, a portion of the Succulent Karoo Biome that has a wealth of endemic plants. This area has a subtle beauty not immediately obvious but requiring a stilling and patience to experience.
Nuwerus is the kind of town that can list its facilities in a nutshell - a post office, a convenience store, an ATM and a laundry facility, give or take a tourism information office and the SAPS. Which does not mean that the little village lacks gravitas. Nuwerus not only boasts the only complete corrugated iron house in the country but it also has a number of beautiful, Victorian buildings, and a Dutch Reformed church worth visiting.
Its smallness is probably its saving grace – there are so few towns today that have retained their original flavour. In the case of Nuwerus the town would not be there at all if it were not for the fact that getting post from Vanrhynsdorp to Garies was just that much too far to manage with one set of horses.
So a halfway house, with the rather rough name of Aardvarkgat (ant eater's hole), emerged where stables housed the horses who needed to rest. At the same time it gave the riders a resting place. Before long the rather unseemly name was changed to that of Nuwerus, or new rest.
Why go there? To experience true country hospitality, to see the flowers in season, to walk and mountain bike. And did we mention the stars?
Travellers' Reviews
1 Review from SA-Venues.com travellers. All reviews are verified.
I'm a South African living in London. Between February and September of 2014 I rented a car and drove through SA re-discovering this beautiful country. My journey took me through the Western Cape, Northern Cape and Eastern Cape. When I found a place I liked I stayed. Anyway I stayed in a town north of Nuwerus for one night and had one of my few negative experiences. The rest of my trip was absolutely amazing. But I left the place I stayed at really early in the morning as I felt unsafe and needed to go. The first town I got to was Nuwerus and it was like I entered a desert oasis. A dry beauty welcomed me. I stopped at the local store (I do not know the name) it was like a Co-Op type of store you get in small villages. And the lady that owned the store was so very kind to me. She took me to her kitchen and gave me the best cup of coffee I have ever had and a breakfast of fresh bread with butter and jam and everything else. I was still shaken up and spilled my coffee and then she let me use her shower. I will forever be grateful to this beautiful Samaritan that was sent across my path and have no idea how to thank her. So here I am - back in London - and I'm telling everyone I meet about this amazing woman in Nuwerus. Thank you for your kindness to me, I will cherish it always. Laurika
Laurika Bretherton (London)
In the vicinity
Hotels & other accommodation options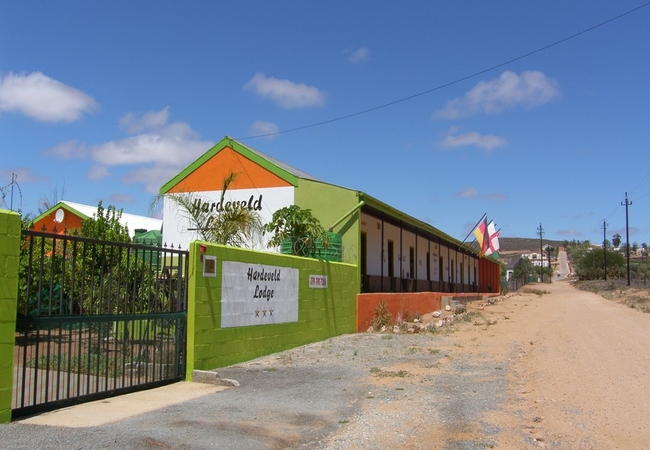 Guest House / Self Catering
Hardeveld Lodge is the perfect stop over between Namibia and Cape Town,a base from which to explore the wonders of the area or for those working ...
Noteworthy attractions
Find accommodation in Nuwerus
FIND / South Africa Accommodation / Western Cape Accommodation / Cape Town Accommodation / Cape West Coast Accommodation / Nuwerus Accommodation
Nuwerus as a destination