KwaZulu Natal Things To Do
Buy glassware at Buchanan Interiors (Howick)
Categories: Arts & Crafts / Malls & Shopping
Price group: Free to Browse (see other things to do in this price group)
Available in the following region(s): Natal Midlands
Address: 12 Thomas Road, Merrivale, Howick, Natal Midlands.
Telephone: +27 (0)33 330-3799
Opening hours: Please call to confirm.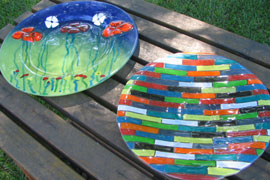 If you are looking for beautiful glassware why not try Buchanan Interiors on the Midlands Meander? All glassware is manufactured in the studio, using a kiln and moulds. Pieces are coloured and decorated using enamel powder and paints, oxides or on glaze before being fired in the kiln. Each item is individually handcrafted which ensures that no piece will be the same.

The studio is open for visitors on most days but you will need to call beforehand to check on opening hours!
Why Not Overnight?
Find Accommodation in Howick
Sunbird Guest House is situated in a beautiful country environment, just 1 hr from Durban, in the tranquil town of Howick and offers accommodation in ...
The greater part of the nature reserve lies in the spectacular gorge below the Howick Falls, while the upper part is the fringe of a rolling plateau ...
Related Pages
Travelling to Howick
• Howick Attractions
• Things to Do in Howick
• Natal Midlands Accommodation
• KwaZulu Natal Accommodation