Cape Town & Western Cape Tourist Attractions
Butterfly World, Cape Winelands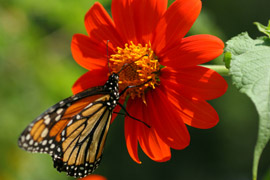 One does not need much persuasion to visit a tropical garden housed within a 1000 square meter greenhouse filled with incredible free-flying and exotic butterflies. Butterfly World, the largest butterfly park in South Africa, lies at the cross roads of Paarl, Stellenbosch and Wellington, just off the N1 at exit 47, near a little village known as Klapmuts.

A visit to Butterfly World is a stop that takes little effort, and is invariably richly rewarded with sightings of butterflies from as far afield as Costa Rica, the Philippines, Malaysia, and China. The team at Butterfly World fly in pupae every week from these countries, all year round, and the butterflies emerge and make their home in the tropical garden. High temperatures and humidity levels, as well as the right amount of sunlight, are imperative for the survival of these delicate creatures.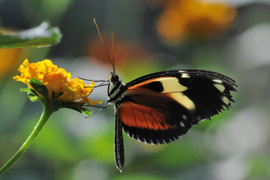 It is a safe bet to visit when the sun is out, as overcast and cold days may well prevent the butterflies from emerging – they are known to be more active on days when the sun shines.
And Butterfly World is not just about butterflies. There is also a spider room with displays of indigenous and exotic spiders and scorpions (safely behind glass) that do much in the way of dispelling the myths and fears that surround these unique eight-legged creepy crawlies (the scorpion's large front pincers are not officially legs, but qualify as appendages). There is also an outdoor garden in which you will find a large aviary, a meerkat enclosure, and wandering ducks, chickens and goats eagerly awaiting the seed and fodder that children can buy from the gift shop in order to hand feed them.
Additional Reading:
If you are interested in visiting Butterfly World you might find the following article / review useful:
Butterflies, Anyone?
Related Links
Other Attractions / Activities nearby

Lying in the Du Toitskloof Mountains close to Paarl, Limietberg Nature Reserve is a beautiful space in which to spend time, particularly if you are a hiker. There are nine separate hiking trails that wind through fynbos, indigenous forest, rugged and steep kloofs, and valleys through which the Breede and Berg rivers ... more information

The Drakenstein Lion Park is a Sanctuary for captive born predators. Drakenstein Lion Park was established in 1998 to provide lions in distress with sanctuary, where they could live in safety, free from abuse and persecution, and be treated with the compassion and respect they deserved. The Drakenstein Lion Park is ... more information
Butterfly World
Accommodation nearby
For accommodation nearby see:
• Franschhoek accommodation • Groot Drakenstein accommodation • Paarl accommodation
• Pniel accommodation • Simondium accommodation • Stellenbosch accommodation
• Tulbagh accommodation • Wellington accommodation

Or to see all accommodation in this region, visit Cape Winelands accommodation.