KwaZulu Natal Tourist Attractions
Drakenberg Boys Choir, Drakensberg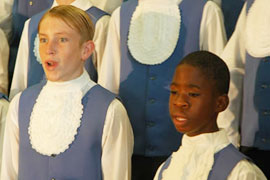 The Drakensberg boys' Choir, set on a 100 acre estate in the Champagne Valley that follows a 'farm school' structure, was founded in 1967 and claims to be the only choir school in Africa, and is most beloved in South Africa and indeed the world – the choir has been touring since 1971 to countries including America, Europe and Japan.

The boys' choir had as its original vision to create a multi-racial, multi-cultural choir school to rival that of the Vienna Boys', and that they have achieved. This possibly has much to do with the fresh mountain air the boys breathe based in the beautiful Champagne valley of the Drakensberg, and the enviable teacher-student ratio in a school that accommodates little over 100 boys.

The construction of a 600 seat auditorium in 1995 with modern sound and lighting equipment allowed the school to reach a new level of professionalism, if you consider that the former hall seated only 80. Today, the choir plays to an auditorium filled to capacity on most Wednesdays during the year.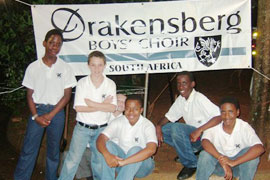 These Wednesday concerts and music festivals, which include Music in the Mountains, rated as one of the top festivals in the country which showcases the coral music of the Drakensberg boys' Choir and features some of the country's most popular artists.
Despite the school's catholic leaning - the initial part of every concert is given over to strictly classical music that includes Bach, Handel, Mozart or Beethoven - the second half almost always includes hidden delights - jazz, folk, or music by Freddie Mercury - an array of what it means to enjoy music. This is not simple music by any means. The boys take on complex melodies and difficult rhythms, and rise to the challenge time after time.
Contact:
The Drakensberg Boys Choir
Telephone:
+27 (0)36 468-1012
Address:
Private Bag X20, Winterton, 3340, South Africa
Website:
http://dbchoir.co.za/
Drakenberg Boys Choir
Accommodation nearby
For accommodation nearby see:
• Bergville • Cathedral Peak • Champagne Valley • Giants Castle • Himeville • Kamberg • Kokstad
• Monks Cowl • Mont-aux-Sources • Sani Pass • Swartberg • Underberg • Van Reenen • Winterton

Or to see all accommodation in the region, visit Drakensberg Accommodation.
Related Links
Attractions / Activities nearby

The Royal Natal National Park was proclaimed in 1916, and contains some of the most spectacular scenery in South Africa. The main feature of Royal Natal is the Amphitheatre, a rock wall about 5km in length, and approximately 1000m in height between the Sentinel (3 165m) and Eastern Buttress ... more information

The Ukhahlamba Drakensberg Park has exceptional natural beauty in its soaring basaltic buttresses, incisive dramatic cutbacks, and golden sandstone ramparts. Rolling high altitude grasslands, the pristine steep sided river valleys and rocky gorges also contribute to the beauty of this world heritage site ... more information

destinations / attractions in kwazulu natal