Things To Do in Franschhoek

Visit The Ceramics Gallery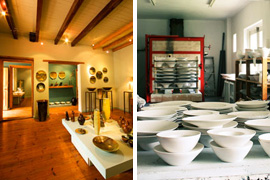 Pottery-working studio and contemporary ceramics showroom. All the work is hand made by David Walters and his daughter Sarah on the premisis. Talk to the artist and see the finished product on display in the gallery. South African master potter David Walters specialises in wheel-thrown studio ceramics, stand alone pieces and domestic ware. David makes bespoke dinnerware for restaurants and private clients in consultation. Classical in nature, David's dinnerware seeks to enhance the food which will be placed on it, rather than overshadow it.