Things To Do in Jeffreys Bay

Jeffreys Bay Surf Museum

Museums Water Sport Sunshine Coast

Where? Inside the Instep Shoe Shop, Jeffreys Bay, Sunshine Coast, Eastern Cape
When? Open daily, please confirm times.
How? Call +27 (0)84 240-1741
How much? Price on request
Overnight? Overnight at accommodation in Jeffreys Bay, in Eastern Cape
Stop anyone with a wetsuit tan, anywhere in the world and ask 'Excuse me where is the number one surf spot in South Africa?' and despite a lifetime of overexposure to saltwater between their ears their answer will be effortless 'J-Bay Dude!'. Jeffrey's Bay has been lovingly shortened to J-Bay not only because it has a nice ring to it but because with so many waves to catch in one lifetime there is little time to for long words when you have a long board under your arm.

Waves at J-Bay are the most dreamed about waves on South Africa's coastline and living up to its legend J-Bay sends famous 'Super Tubes' to shore; a point break right-hander wave... with the occasional dolphin or whale audience to make for radical witnesses. If a teenage boys room filled with Rip Curl magazine posters of surfing legends is a small breaking wave then the Surf Museum at J-bay is a tsunami. The Surf Museum goes 'off the lip' with original newspaper clipping, authentic magazine articles and photographs tracing the history of the sport and its heroes in J-Bay waters. The development for the sport is tracked from a fun bet-you-can't-stand-on-that past-time to a technical water carving rush.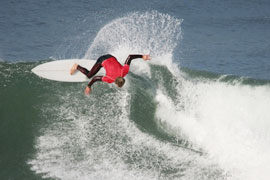 J-Bay is a small holiday town with big waves and is ranked as one of the top 10 surf spots in the world. If you 'hang ten' at the local Surf Museum, displays of surf boards will illustrate the evolution of the ride from heavy to light; from wood to foam and glass fibre. 'Antique' surfboards lie amongst wave-riding facts. The local sport was founded by fearless pioneers of the barrel whose personalities were as big as the waves they stood upon; their legacies are paid tribute at the Surf Museum as documented surf history. Surf history continues to be made every July at J-Bay as 44 of the world's top ranked surfers ride it out at the WCT (World Contest Tour), bringing international talent (and some Baywatch guest stars) to local waters. The Surf Museum displays the historical relationship between man and wave magic, be sure to check it out in between sets and if you happened to be world-ranked please autograph something for future wave riders.
Please Note
Business details can change. All information is published in good faith as supplied by the providers. Please check with the provider that the activity/business is still offered as described above, before making any travel plans.