One of the largest wind farms in South Africa is 60 turbines spanning 3 700 hectares of farm land between Jeffrey's Bay and Humansdorp. It produces enough clean, renewable energy to power over 115 000 average ...
Jeffrey's Bay is one of the world's most popular surfing hubs, but it is also home to the Jeffrey's Bay Golf Course, where avid golfers and holiday-makers alike can enjoy a day spent in the South African ...
The Eastern Cape is abundant in fascinating fauna and flora. It has a unique combination of species and is rich in its biodiversity. The Noorsekloof Nature Reserve is dedicated to showing some of this off to ...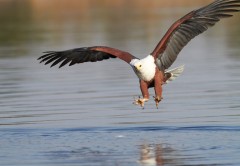 The Seekoei Nature Reserve is situated between Aston Bay and Paradise Beach, just outside of Jeffrey's Bay in the Eastern Cape. The reserve has a total area of 60 hectares and lies on the estuary formed by the ...