South Africa World Heritage Sites
Greater St Lucia Wetland Park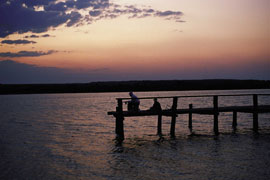 The ongoing fluvial, marine and aeolian processes in the Greater St Lucia Wetlands Park site have produced a variety of landforms, including coral reefs, long sandy beaches, coastal dunes, lake systems, swamps, and extensive reed and papyrus wetlands.

The interplay of the park's environmental heterogeneity with major floods and coastal storms and a transitional geographic location between subtropical and tropical Africa has resulted in exceptional species diversity and ongoing speciation. The mosaic of landforms and habitat types creates breathtaking scenic vistas. The site contains critical habitats for a range of species from Africa's marine, wetland and savannah environments.

Justification for Inscription:
The St. Lucia site consists of thirteen contiguous protected areas with a total size of 234,566 hectares. The site is the largest estuarine system in Africa and includes the southernmost extension of coral reefs on the continent. The site contains a combination of on-going fluvial, marine and aeolian processes that have resulted in a variety of landforms and ecosystems. Features include wide submarine canyons, sandy beaches, forested dune cordon and a mosaic of wetlands, grasslands, forests, lakes and savannah.

The variety of morphology as well as major flood and storm events contribute to ongoing evolutionary processes in the area. Natural phenomena include: shifts from low to hyper-saline states in the Park's lakes; large numbers of nesting turtles on the beaches; the migration of whales, dolphins and whale-sharks off-shore; and huge numbers of waterfowl including large breeding colonies of pelicans, storks, herons and terns. The Park's location between sub-tropical and tropical Africa as well as its coastal setting has resulted in exceptional biodiversity including some 521 bird species. (Source: UNESCO)

Greater St Lucia Wetland Park:
The Greater St Lucia Wetland Park is situated in the southern end of the Mozambique coastal plain near the towns of St Lucia, Mtubatuba, Hluhluwe, Mkuze, Mbaswana and Manguzi. This is a transitional zone in terms of fauna and flora between the temperate forms of the south and the tropical forms in the north and many species are endemic to this coastal plain. The protected area is home to the largest population of hippopotamus and approximately 1,000 crocodiles as well as a wealth of plant and animal life.

The largest mammal found in the Greater St Lucia Wetlands Park is the humpback whale and on land the African Elephant. In 2001 Elephant was introduced into the wetlands system and this has brought this area closer to "big five" status and has re-introduced a key ecological vector. Other mammals include Buffalo, Rhino, Zebra, Eland and Kudu. Wildlife Safaris on horseback is an extraordinary experience as the game see you as part of the horse and don't frighten easily which affords you the opportunity to get up close to the animals.

Of great interest is the staggering number of birds to be found in the St Lucia Wetlands. Over 500 different species of birds are resident or pass through the wetland system annually and comprise of marine, wetland and forest birds. The park has one of the most diverse variety of frogs and their choruses can often be heard at night and on dull rainy days. The highly endangered gaboon adder and a large variety of other snake species reside in this subtropical coastal dune forest. Other reptiles, such as the marine turtles, the Leather Back Turtles and Logger head Turtles utilise the protective beaches to breed in ... For additional info see Greater St Lucia Wetlands Park.

Did You Know?
World Heritage Sites recognise and protect areas of outstanding natural, historical and cultural value. Given South Africa's diverse culture and history and her spectacular natural resources and wildlife, it is not surprising that South Africa boasts 8 World Heritage Sites.