Things To Do in St Lucia

Beach Rides on Horse Back

Horse Riding Elephant Coast Zululand

Where? Bhangazi Horse Safaris, St Lucia, Elephant Coast, KwaZulu Natal.

When? Daily, by arrangement. 1 or 2 hour beach rides.
We only go out at low tide

How? Call +27 (0)83 792-7899

How much? Price on request

Overnight? Stay at accommodation in St Lucia, in KwaZulu Natal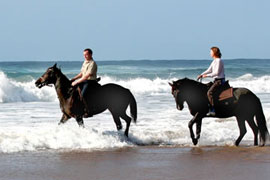 We take the horses out along Iphiva Beach at the northern end of St Lucia where there are many kilometres of clean white sand with the Indian Ocean rolling in alongside. During the whale season (May to November) we sometimes see humpbacks breaching out in the deeper water on their way to the breeding grounds in Mozambique and from November to March we search for the tracks of turtles who dug their nests above the high tide mark in the warm sand the night before.
The rest of the year we have to make do with dolphins playing in the surf or just the amazing views along the beach to the highest forested dunes in Africa. Our beach rides are low tide dependent so we can ride on the hard sand and so neither damage anything living in the soft sand nor possibly harm the horses.