Things To Do in St Lucia

St Lucia Market

Craft & Flea Markets Elephant Coast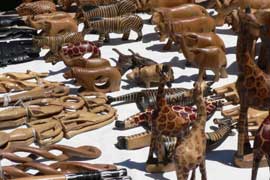 Tucked away in St Lucia at the end of McKenzie Street you will find the most wonderful market. Here you can find a vast selection of curios and fresh produce.
Local farm producing paw-paws, bananas, avocado pears, macadamia nuts and so much more bring this fresh produce to the market.
Everybody loves a bargain, so be prepared to haggle with the friendly vendors to agree on a price suitable to you both! This market has a great atmosphere, is busy and is filled with an array of interesting people with fascinating things or services to sell.