Things To Do in Yzerfontein

Tribal discoveries at !Khwa ttu

Cultural Sites Cultural Villages Family Entertainment Miscellaneous Sight Seeing Cape West Coast

Where? Grootwater Farm, R27, Yzerfontein, Cape West Coast, Western Cape.

When? Closed Mondays. Open Tuesday to Sunday from 09h00 to 17h00. San guided tours at 10h00 and 16h00.

How? Call +27 (0)22 492-2998

How much? Price on request

Overnight? Overnight at accommodation in Yzerfontein, in Western Cape

!Khwa ttu ('water pan') is an 850 Ha expression of the San kinship. This indigenous Southern African minority group has only 6700 San people living in South Africa today although genetic evidence places them as possibly the earth's first ever human inhabitants.

The ancient wisdom of the wandering San tribe (previously known as Bushmen) is relished at the San-owned empowerment project, !Khwa ttu, celebrated on ancestral land on a hill top overlooking the Atlantic Ocean and Table Mountain. This San community is the haven, workplace and cultural training grounds of the first people to place footprints on South African earth still whispering barefoot memories across sand dunes today.

San guides usher you into their heritage across cascading bushlands adorned with Fynbos (South African vegetation), game and birdlife. The distinctive clicking sounds of the San language snap through the air to land in your experience. Oral history that passes through San generations on story telling lips is communicated first-hand to visitors amongst a wildlife arena of Oryx, Zebra, Eland, Springbok and Bontebok. A tractor ride transcends the nature reserve commencing the 3 hour tour of traditional and contemporary San ways.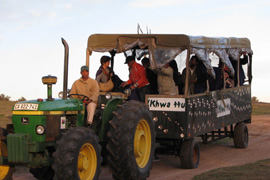 Tracking, hunting and gathering are demonstrated on a comfortable trail walk and a traditional San Village replica is visited. Tools, bows and arrows together with their skill sets are demonstrated by their San masters equipping you with insider knowledge on fire starting with only two twigs. A drink is served at the boma (traditional enclosure) on the highest tour point embellished with poetic landscape views.
The cultural reflection of the San in viewed through the photographic exhibition of their lifestyle while their essence is crafted at the gift and replica shop. A restored farmhouse fine dining restaurant herds vistas, hunts and gathers flavours and shares them over a pursued breakfast, lunch or tea.
Please Note
Business details can change. All information is published in good faith as supplied by the providers. Please check with the provider that the activity/business is still offered as described above, before making any travel plans.