Restaurants in Yzerfontein
Restaurants: Casual Dining
Showing 2 of 2 restaurants in this category
Where? Yzerfontein
You'll first be attracted by the colourful umbrellas and friendly looking white washed tables with their blue seats on the verandah of this inviting beachside restaurant. Blue, green and orange umbrellas will ...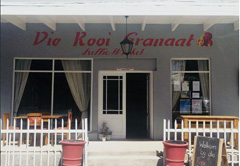 Where? Yzerfontein
Immensely popular, even after five years of trading in the seaside resort of Yzerfontein, Die Rooi Granaat serves its patrons with true South African style! Hands-on owners, Owners, Evert Smit and Marais ...
Restaurants: Cafés & Coffee Shops
Showing 1 of 1 restaurant in this category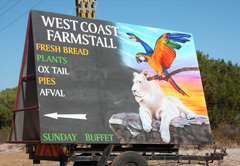 Where? Yzerfontein
For a great afternoon out and the best farm stall experience ever, get to the West Coast Farm Stall. Not only will you be blown away by the gift store but there is a beautiful bird sanctuary you can wander ...
Filter restaurants
in Yzerfontein, Western Cape
©Unauthorised use of the
photos is strictly prohibited.