KwaZulu Natal Things To Do
iLanda Wilds Nature Reserve (Amanzimtoti)
Categories: Nature Reserves / Walks & Hiking
Price group: R1 to R100 per person (see other things to do in this price group)
Available in the following region(s): South Coast
Stay Overnight: See accommodation in Amanzimtoti, in KwaZulu Natal
Address: iLanda Wilds Nature Reserve, Isundu Drive, Amanzimtoti, South Coast
Telephone: +27 (0)31 903-7498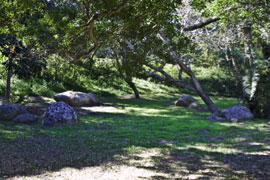 The reserve is currently undergoing major restoration in order to preserve its natural beauty as well as its historical and cultural importance.

The Ilanda Wilds Nature Reserve is a small 14 ha nature reserve situated along the Amanzimtoti River. Ilanda Wilds Nature Reserve consists of a richly vegetated patch of riverine and coastal scarp forest inhabited by more than 120 various tree and shrub species including the rare Fluted Milkwood and Natal Elm tree. Three self guided trails within the reserve will delight visitors with prolific birdlife and probable sightings of vervet monkeys. The self-guided Loerie, Mpiti and Mongoose trails start near the town centre, and lead visitors to the preserved riverbank area. The trails are well laid out and each cover a distance of about 1 kilometre.

Of historical interest, there is a plaque in the reserve mounted on stone, where King Shaka apparantly tasted the river water and gave the town of Amanzimtoti its name, "place of sweet water". Picnic and braai sites available.
Why Not Overnight?
Find Accommodation in Amanzimtoti
Low rates. Free wireless Internet. Free transport in 5km radius. Low cost airport transfers. Credit cards accepted. We cater for travelers, holiday ...
Inyoni Rocks Cabanas is one of the most sought after holiday complexes in and around Amanzimtoti. The complex is situated on the Amanzimtoti main ...
Related Pages
Travelling to Amanzimtoti
• Things To Do in Amanzimtoti
• Amanzimtoti Attractions
• Amanzimtoti Map
• Amanzimtoti Guest Houses
• KwaZulu Natal Accommodation