Eating Out in Paarl

Pontac Manor Restaurant

Cafés & Eateries Cape Winelands

Where? Pontac Manor, 16 Zion Street, Paarl, 7646, Cape Winelands, Western Cape

When? Bookings advised.

How? Call +27 (0)21 872-0445

Overnight? Stay at accommodation in Paarl, in Western Cape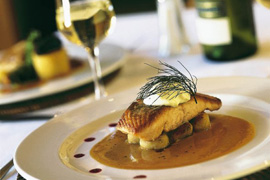 The delectable "Restaurant at Pontac" is located in the beautifully restored old barn of this historic estate. The setting on the slopes of Paarl Rock is exceptional. Patrons dine al fresco on the cosy front porch or inside in a restaurant decorated with quirky coloured African wall hangings and ceiling drapes. Bricked-in chicken nests, antique window frames with deep-set ledges and original stone fireplaces add to the ambience, which is delightfully informal with the accent on country hospitality, offset by elegant tableware and professional service.
Since opening in January 2000, the restaurant has gained acclaim as a venue where good food, good wine and good service are par for the course! The menu line-up includes the Pontac Classics and an ever-changing range of seasonal specialties.