Things To Do in Oudtshoorn

Hold a Cub at Cango Wildlife Ranch

Animal Sanctuaries Family Entertainment Miscellaneous Karoo

Where? Cango Wildlife Ranch, Route 62 en route Cango Caves, 3km outside Outshoorn.

When? Daily from 08h00 to 17h00 (last tour 16h30).
Open everyday including Christmas Day and New Years Day.

How? Call +27 (0)44 272-5593

How much? Falls into price group R101 to R200 per person. Confirm with the provider.

Overnight? Stay at accommodation in Oudtshoorn, in Western Cape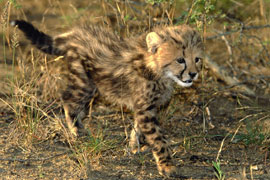 Cheetahland established in 1988 as a wild cat conservation camp is the oldest and biggest Cheetah contact centre in the world. This sanctuary to Africa's endangered cats is preserved in the Karoo's picturesque town of Oudtshoorn. Here seeing and feeling the cats and their cubs promotes awareness of their plight and population threat.
One hundred Cheetah have been bred here in captivity to ensure their survival. Having been hand reared these cats are familiar with human contact allowing face to face human to cub and human to cheetah encounters for volunteering visitors. Only 3000 Bengal Tigers are left in the world and Cheetahland is home to the first of these cubs born on African soil.
Holding and touching Cheetah and Tiger cubs is a moving experience for human 'cubs' and adults. Full grown Cheetah and Tiger encounters are a privileged interaction for visitors 16 years and older as observation of the animals has surveyed a different response from these full grown cats to children. All funds raised from these encounters are used in the breeding and conservation program.

Extinct in nature for over 12 years two rare White Lion cubs can also be seen at this reserve having been rescued and bottle fed to health. The endangered Jaguar cats native to the Americas can also be seen leaping at this ranch. This breeding and conservation project encompasses all magnificent striped and spotted wild cats; check out Cheetahland.
Additional Reading
For an in depth review of the Cango Wildlife Ranch see our article at "Cango Wildlife Ranch - the real deal for sheer cuteness".
Please Note
Business details can change. All information is published in good faith as supplied by the providers. Please check with the provider that the activity/business is still offered as described above, before making any travel plans.