Eating Out in Oudtshoorn

Art, Cheese, Chocolate & Liquer Route

Art Galleries Cafés & Eateries Miscellaneous Wine Tours & Tasting Karoo

Where? 4 different venues in Oudtshoorn in the Western Cape.

When? Not specifies - The venues have different times, please phone to confirm.

How? Call See notes below.

Overnight? Stay at accommodation in Oudtshoorn, in Western Cape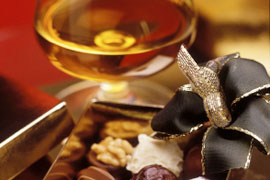 Experience something unique and special - especially for lovers of the finer things in life, the Oudtshoorn Art, Cheese, Chocolate and Liquer Route is bound to delight! When you visit Oudtshoorn next take the time to to combine some sight-seeing with visits to four unique Hot Spots, all offering unique products which join to tantalise your senses.
As a first stop visit Moooi in Jam Street to view the Art Gallery. On site is a lovely Gift and Coffee Shop worth refreshing at before heading on to Tantinki in Langehoven Street for award winning goats milk cheeses and other related products. Across the road is your next stop, Rococo for the chocolate tasting sensation. Taste and buy sweet Belgian passion from the little Karoo's own chocolatier. The final stop of this taste-sensational route is Grundheim in Volmoed Street. Taste, enjoy and purchase award winning liquers, sweet wines, ports and witblits.
Yummy!
Moooi - Telephone: +27 (0)82 511-0516
Tantinki - Telephone: +27 (0)83 340-5821
Rococo - Telephone: +27 (0)84 232-5991
Grundheim - Telephone: +27 (0)44 272-6927