Almost 30 kilometres outside of Outshoorn in the Klein Karoo, and certainly one of the main reasons for placing this little town on your itinerary, other than the prospect of riding an ostrich, lie the Cango ...
Lying in the Little Karoo is the remote Gamka mountain range, isolated because of the conduit of the Gouritz River that slices between the Gamkaberg, and its nearest neighbour, the Rooiberg. The Gamkaberg ...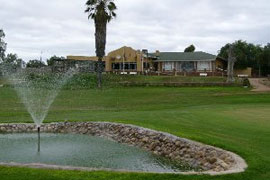 The Oudtshoorn Golf Course is stuated in the Little Karoo, and forms an oasis of green fairways in the dry scrubland that is so characteristic of the area. The Little Karoo is a far cry from a true desert and ...
Schoemans Poort links Oudtshoorn with the Cango Caves, a popular tourist attraction of the Klein Karoo. Despite its frequent use, the pass suffers something of a Cinderella complex, paling by comparison with ...