Things To Do in Vredendal

Namaqua (Spruitdrift) Wines

Wine Tours & Tasting Cape West Coast Olifants River Valley

Where? Just outside Vredendal, 8160, Olifants River Valley, Western Cape, South Africa

When? Monday to Friday from 08h00 to 17h00. Saturday and Public Holidays from 09h00 to 15h00.

How? Call +27 (0)27 213-1080

How much? Falls into price group R1 to R100 per person. Confirm with the provider.

Overnight? Stay at accommodation in Vredendal, in Western Cape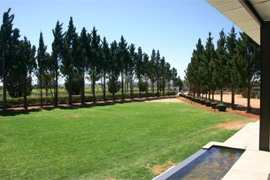 The contrasting climate of the Olifants River Valley ensures that the grapes used in Namaqua wines are simply superb. Vredendal is home to the manufacturing of the wines.
The Namaqua range includes multiple brands that will fit into any occasion.
You as the visitor will head to the modern tourist centre called "Die Keldery" which is found at the Spruitdrift Winery just outside the town of Vredendal.
The building is modern and offers you a wine and food experience. Make yourself comfortable in the tasting room with many areas to seat yourself for your tasting. You can taste a large selection from the Namaqua range.
After your tasting you can enjoy a meal in the restaurant which offers gorgeous views of the surrounding vineyards and mountain range.
To view more wine estates in the region see Olifants River Wine Estates or see South Africa Wine Estates for a general overview and links to other wine producing regions.