KwaZulu Natal Golf Courses
Wild Coast Sun Golf Course, Port Edward
Designed by
Robert Trent Jones Junior
Type
Parklands golf course
Holes
18
Par
70
Fairway Grass
Kikuyu
Greens Grass
Kikuyu
Length
5807m (Ladies: 5329m)
Telephone
+27 (0)39 305-2799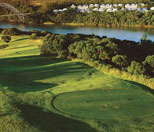 Wild Coast Sun Golf Course, Near Port Edward, KwaZulu Natal / The Wild Coast Sun Country Club is a rugged beauty of a course. Carts are compulsory but this does not detract from the competitive challenge. The course may be a daunting challenge for professionals and amateurs alike but its wide fairways and huge greens, attract golfers of all levels.

A first glance at the score card might suggest that this course is a bit of a push-over - less than 6 000 metres in length with six par threes. On face value this might seem so but in reality the Wild Coast Sun Country Club is one of South Africa's most testing layouts. Indeed renowned American golf course architect, Robert Trent Jones Jnr has created a dramatic golfing experience overlooking the Ocean.

Possibly the greatest challenge is to conquer the prevailing winds which add an entirely new dimension to the course. Some of South Africa's finest and certainly most dramatic golf holes can be found here. The thirteenth, a par 3 played across a waterfall is generally regarded the best short hole in the country.

And for drama nothing can match the outstanding par 5, twelfth. Here the drive is hit from a high elevated tee to a fairway far below that snakes its way through a valley flanked by a dam and stream on the left with a natural hillock on the right. The more of the river you take on with your drive the easier the approach to the green - an excellent example of a risk and reward par 5.

In keeping with modern business trends, the Wild Coast has boosted its fleet of carts to 60, with a few in reserve. This will cater for a full field of 120 players at any one time.

Stay overnight
Find accommodation in Port Edward (by location map) or see Port Edward Accommodation (with preview images and description). Consider Port Edward Hotels (ranging from 3-5 star) or if you prefer to do it the self catering way, you will find our comprehensive list of Port Edward Self Catering options useful. Also see South Coast Accommodation and South Coast Hotels for overnight options in surrounding towns or see KwaZulu Natal Accommodation and KwaZulu Natal Hotels for a place to stay in other towns and cities in the KwaZulu Natal.

Did you know?
The Wild Coast Sun Country Club is one of South Africa's most testing layouts.
golf courses in kwazulu natal