Things To Do in Beaufort West

Karoo Erdvark Trail

Hiking Trails Walks & Hiking Karoo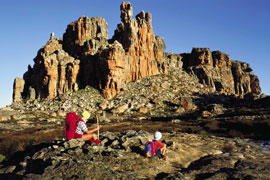 Enjoy the ultimate Karoo experience while on the Karoo Erdvark Trail, about 80 kilometers from Beaufort West. The trail is within the Nuweland Mountains and will take you across functioning sheep farms, through valleys various kloofs and pools that are tucked away waiting to be discovered.
There is lots to be seen along this trail, aside from the beautiful view, you are bound to spot various game and an abundance of birdlife. Make sure you bring along your camera for those fabulous photos. The trail is suitable for most with easier short walk options rather than the moderate to fairly difficult sections along the way. Karoo Erdvark trail is self guided and there is accommodation available.