The Karoo National Park is situated close to the N1 highway between Cape Town and the hinterland, approximately 1000 km south of Johannesburg and 500 km north of Cape Town. Because of the sparse vegetation ...
The Klipspringer Pass takes one up to one of the best view points in the Karoo National Park, which you'll find just outside the town of Beaufort West. It's an easy pass to drive, although there are several ...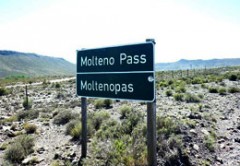 Said to be South Africa's first mountain pass, Molteno Pass links Beaufort West to Loxton, in effect joining the oldest town in the area to the Northern Cape. It lies in the Nuweveld Mountains on R381, ...