Things To Do in Trafalgar

Trafalgar Beach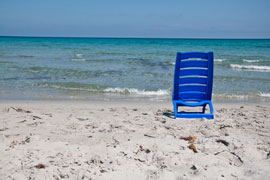 For the holidaymaker who is interested in exploring, watching or simply lazing the days away head to Trafalgar beach situated just north of Port Edward on the South Coast.
This beach has been proclaimed a marine reserve in some parts from south of the Mpenjati River at Palm Beach, to Centre Rocks, 5km to the north.
Swimmers are protected by shark nets and lifeguards on weekends, public holidays and school holidays; itís also on the surfing lovers map. Snorkeling is a popular pastime in the area due to the 90 million year old fossil beds lying just a short distance from the shoreline. This unspoilt beach has blue flag status and is surrounded by lush dune forest.