Fernkloof Nature Reserve lies in the Kleinrivier Mountains above Hermanus with some pretty choice views over the Hemel-en-Aarde Valley and Walker Bay. The close on 2 000 hectare reserve protects the priceless ...
Directly translated from the Afrikaans Hemel-en-Aarde means 'heaven-and-earth' and, certainly for those who live there, the valley is often described as, literally, Heaven on Earth. It is through this ...
Being the whale watching capital of the Southern Hemisphere the seaside town of Hermanus is undoubtedly most famous for its whales. There are, however, numerous other excellent reasons to visit this small, ...
The course doesn't only challenge however, you are rewarded, hole after hole, with panoramic views that overlook the sparkling ocean and adding to the charm of the course is the ability to see the seasonal ...
While most visitors to Hermanus have many things to do on their itinerary, most involving the whales that have made this town famous, there are many other activities on offer. One of these is surely the ...
Hermanus' New Harbour lies west of town, alongside the township Zwelihle and close to the western end of Westcliff Road. The well-known Old Harbour, by comparison, lies close to Gearing's Point - the town's ...
Hermanus on the Cape Whale Coast has its very own whale crier, and, what's more, Hermanus lays claim to the only whale crier in the world. The popular town of Hermanus, connected directly to the Mother City by ...
By definition, a koppie is a small hill on an otherwise flat area, and Hoy's Koppie certainly earns its name by this account. This little treasure is dramatic in its stature, beautiful for its fauna and flora, ...
Rotary Way may be a short route, but it is one that showcases some of Hermanus' loveliest views within a space of just a few kilometres. It is a partially tarred road and climbs 188 metres up the mountains and ...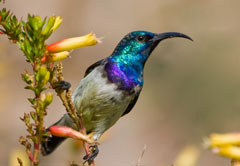 Part of the value of this conservancy is that it is the natural hub of a range of endangered and rare fynbos species and habitats. So many of these are otherwise decimated or damaged by urbanisation, ...
Extending along a stretch of coast between the town of De Kelders and the Hermanus Lagoon, the Walker Bay Nature Reserve lies just 3 kilometres from Gansbaai, east of Hermanus on the Danger Point Peninsula. ...
As the acclaimed home of the whales between around June and December, Hermanus celebrates these cetaceans in many ways, not least of all at the Whale House Museum. Here, the mysteries of their behaviour, ...