Eating Out in Sabie

Dine at The Smokey Train

Cafés & Eateries Panorama Route

Where? No 3, 9th Avenue, Sabie, Mpumalanga

When? Tuesday to Saturday from 11h30 to 21h00
Sunday from 11:00 to 18:00
Closed on Mondays (Except major holidays).

How? Call +27 (0)13 764-3445

Overnight? Stay at accommodation in Sabie, in Mpumalanga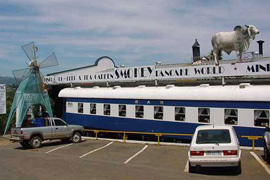 Situated in the the town of Sabie, in South Africa's Mpumalanga Province, Smokeys Train Diner offers fine dining in a unique, relaxed atmosphere. We include a large variety of dishes on our menu including steaks, seafood and pizzas in order to accommodate all tastes and appetites.
Highlights include The famous Potjie which is a traditional "Boer" stew, served in a mini cast-iron pot. Choose from Beef Curry, Seafood, Oxtail, and many more. Smokey's Pancake Meals are a lighter meal, consisting of a moist and fluffy pancakes served with side salads and a filling of your choice. Choose from Bockwurst, Steak & Kidney, Bacon & Cheese Sauce, and more.
Our Spare-ribs are some of the largest around - filling your plate (and your tummy!) Marinated, grilled and basted, they are sure to keep you coming back for more and our Paella Pans are ideal for two to share, with a variety of seafood and Prawns served on a bed of spicy vegged rice.