Things To Do in Bela Bela

Tailor-made Elephant Interaction

Animal Sanctuaries Big Game & Wildlife Waterberg

Where? On the R101 adjacent to Zebula Country Club, Bela Bela, Waterberg, Limpopo

When? By appointment only.

How? Call +27 (0)14 734-7730 or +27 (0)14 734-7700

How much? Price on request

Overnight? Stay at accommodation in Bela Bela, in Limpopo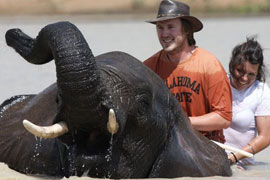 Adventures with Elephants lives up to its name, offering all-round experience with elephants, whether you you're adventurous enough to do an elephant-back safari, swim with elephants, keep lifelong memories of swimming with elephants or a starlight safari.
Offering tailor-made activities depending on your wishes, Adventures with Elephants will fulfill them. Located on a gorgeous wildlife reserve just an hour and a half from Pretoria, the family that manages Adventures with Elephants has lived and wired with them since 1988. You're in safe hands with an extremely knowledgeable team, who offer everything from elephant interactions through to teambuilding with elephants. Experience hands-on interactions and be part of the special world of the elephant, where you will experience their intelligence and compassionate nature. We highly recommend this life-changing, magical experience, where you will interact with these magnificent, big-hearted beasts living in Africa.
Please Note
Business details can change. All information is published in good faith as supplied by the providers. Please check with the provider that the activity/business is still offered as described above, before making any travel plans.