Things To Do in Roodepoort

Chinese Dragon Boat Racing

Where? Eistedfod Street, Florida Lake, Roodepoort, West Rand, Gauteng

When? From 10h00 to 17h00.

How? Call +27 (0)82 488-4074

How much? Price on request

Overnight? Stay at accommodation in Roodepoort, in Gauteng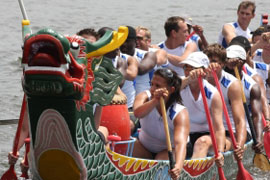 The sport of dragon boat racing is an ancient Chinese sport where 20 paddlers race over 250 or 500 metres to a flag catching finish. The team lifting their flag first are declared the winners. This is a team sport where members must work together, and is an excellent team building exercise.
The Florida Lake Dragon Boat Club welcome all new prospective paddlers and dragon boaters to join their practice sessions.