Eastern Cape Things To Do
Visit the Owl House (Nieu-Bethesda)
Categories: Museums
Price group: R1 to R100 per person (see other things to do in this price group)
Available in the following region(s): Karoo Heartland
Address: 50 km north of Graaff Reinet off the N9 to Middelburg, Nieu-Bethesda, Eastern Cape
Telephone: +27 (0)49 841-1733
Opening hours: Daily from 09h00 to 17h00. Closed on Christmas Day.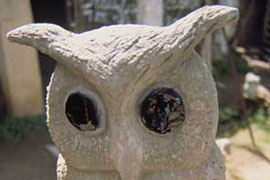 Set deep in the Sneeuberg Mountains in the small village of Nieu Bethesda, the Owl House is a Karoo cottage and yard in the Eastern Cape, transformed between 1950 and 1976 by Helen Martins into a glass-encrusted wonderland and statue garden. The house and yard are open to the public daily (except Christmas day).

'Miss Helen': Born in Nieu-Bethesda in December 1897, Helen Martins returned to the town after years away and set about transforming her childhood home into a rich, magical wonderland.

The Owl House and Camel Yard: She revamped her house by using mirrors and then glass to transform ordinary walls into glittering fields of colour. She crushed her own glass from bottles and used the milled shards as wallpaper. Outside she began making concrete statues, helped by a succession of workers. She dubbed the backyard the Camel Yard, so named because of the large number of camels that populate it, roughly a third life-size - many facing the metal wording on the southern fence that says "East / Oos".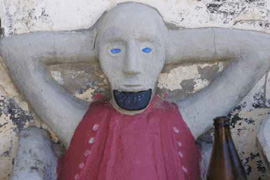 Over the years Miss Helen and her helpers added to the mostly quasi-religious tableaus. Mythical figures started to appear, half human, half creature. Today it is a forest of some 500 statues, intense, baffling and compelling. Miss Helen committed suicide in 1976 by swallowing caustic soda. She left behind a legacy of intrigue - her kingdom sparks the imagination like few other places in
South Africa
.
The Owl House Foundation: Today Miss Helen's house and Camel Yard are owned by the Camdeboo Municipality and administered by the Owl House Foundation, a Section 21 not for profit organisation formed in1996. The Foundation is entirely reliant on donations and gate fees.
Why Not Overnight?
Find Accommodation in Nieu-Bethesda
This charming Karoo cottage offers you a self catering unit or Bed & Breakfast accommodation, with beautiful interior, situated at one of the best ...
Visiting Nieu Bethesda and the Owl House? Enrich your experience with a stay at Murrayfield Guest House, a characterful and gracious village home ...
Related Pages
Travelling to Nieu-Bethesda
• Nieu Bethesda Attractions
• Nieu Bethesda Bed and Breakfast