Things To Do in Nieu-Bethesda

Die Ramstal Pub

Nightlife & Theatre Karoo Heartland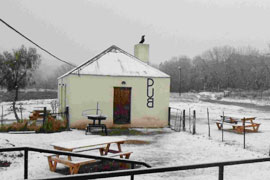 Nieu Bethesda is a tiny town in the Karoo that has a kind of mystical appeal. It is scenic, with a rare beauty that comes from its sparseness and isolation. It gained acclaim for The Owl House, which continues to be a major attraction.
Die Ramstal is a charming pub that is nestled behind the Karoo Lamb Restaurant. This pub has, as its venue, an old stable that has been revamped and converted into a hub of cosy hospitality and ice-cold beers. It is frequented by locals who are more than happy to share their tales (and a few local legends) with visitors that are willing to listen. These stories are best savoured next to the fire on chilly winter evenings.
Acclaimed South African performers sometimes entertain the customers. Such local celebrities include the likes of Steve Newman and Koos Kombuis.