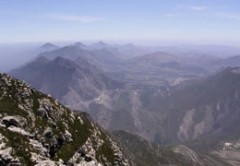 The Cradock Pass, a route over the Outeniquas north of George, has been described by some as 'trecherous'. The adjective more than aptly describes the steep and often dangerous path that rose quickly to a ...
Situated at the top of Caledon Street, in the town of George, the Garden Route Botanical Garden is worth a visit for its value as a 'green lung' but also for the role it plays in raising awareness about the ...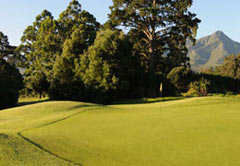 Nestled in the foothills of the magnificent Outeniqua mountains, George Golf Club is among the oldest courses in the country. George country club has for many years maintained a worthy rating amongst the top ...
The Kaaimans River Pass connects the towns of Knysna and George on the Garden Route. It lies on the N2, a tarred pass that during the 2006 heavy rains in the area was placed under severe strain when a huge ...
From its perfect blend of design and scenery, to its temperate weather, you're certain to find Kingswood's Championship Golf Course a unique challenge, and one you'll want to take up again and again. Kingswood ...
The course is typical parklands and one of three Gary Player designed courses offered at Fancourt. Montagu is highly acclaimed and has in recent years been voted South Africa's No 1 golf course, and by CNNGo ...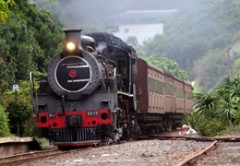 It is with great sadness that we need to report that the Outeniqua Choo Tjoe is no longer in operation. Information supplied here for historical purposes only: One of the few remaining steam trains in the ...
Named after the Mountain that overlooks this magnificent Garden Route golfing gem, the Outeniqua Course at Fancourt is one that barely needs introduction. Of the two parklands courses offered at Fancourt, the ...
Not far from George on the Garden Route, the Outeniqua Nature Reserve lies in the heart of the Outeniqua Mountains, its 38 000 hectares divided up over the impressively solid barrier that separates the high ...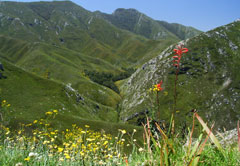 Think of famous passes in the Western Cape and the Outeniqua Pass easily vies for top position. It is modern, easy to drive, and promises sweeping views and scenery to compete with the best of them. Outeniqua ...
The Swartrivier Pass forms the initial part of the historical Seven Passes drive, athough it is not officially one of the seven passes because it has changed so much from the historical Swartrivier Pass. Today ...
Gary Player, who has been a part of the design team since the original courses at Fancourt, came on board to add the Links in 2000 and has gone on to say The Links is perhaps his greatest achievement as a ...