Vosburg, Upper Karoo
Vosburg is seriously gorgeous. Move there kind of gorgeous. More so for the completely unexpected surprise of its yet-to-be-discovered appeal.
It lies in the Upper Karoo between Carnarvon and Britstown. Few people get there, unless they're on the Namaqualand flower route. As you enter town there is a laugh-out-loud sign encouraging you to 'geniet ons koeltebome' (enjoy the shade of our trees). There aren't many towns in this arid region that can make a similar claim.
But when you turn into Vosburg and see the array of pines, bluegums, pepper trees, cypress, poplar and others, you begin to realise just how much they have to be thankful for. Instead of baking pavements their gravel roads are peaceful and sheltered. And the gentle caravan park on the edge of town looks really inviting because of the trees.
The Karoo Country Inn at the entrance to town is just one of the pretty, neo-classical buildings steeped in Victorian, Edwardian and Karoo-style architecture - many of them national monuments.
There's a museum too that gives a varied history of the area and the early people who lived here, the KhoiSan, leaving behind them rock art, which you can view on the farm Keurfontein.
Vosburg is firmly on the Namaqualand flower route. It also has an annual Bull Run. Combined, the two events bring visitors from far and wide through the Kareeberge to while away time at Die Ketel coffee shop or on the creaking pine floor of the Vosburg Slaghuis & Algemene Handelaar, now an arts and crafts cum coffee shop cum post office.
If you're lucky you'll meet Johan and his sheep dog on lower Market Street, and he'll entertain you to the story of how he came here on holiday from Johannesburg, booked into the inn, and never left. Of how incredibly hospitable he finds the locals, and how even the police van slows to allow his dog to remain in the middle of the road.
In the vicinity
Hotels & other accommodation options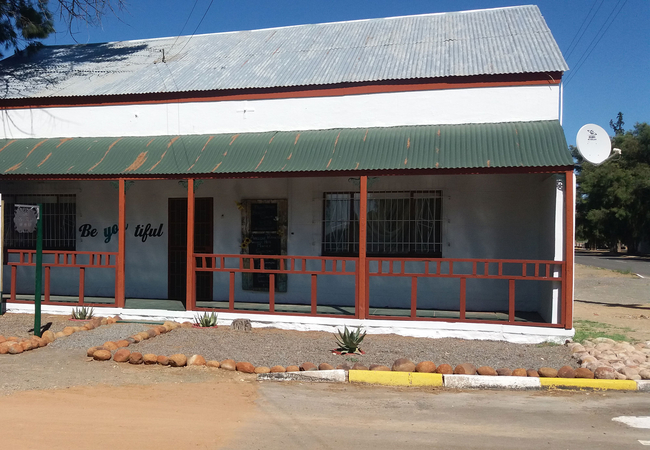 Bed & Breakfast
Elvee Accommodation offers bed and breakfast accommodation in the Karoo town of Vosburg. While here you can enjoy a romantic and peaceful getaway...
Noteworthy attractions
Find accommodation in Vosburg
FIND / South Africa Accommodation / Northern Cape Accommodation / Upper Karoo Accommodation / Vosburg Accommodation
Vosburg as a destination