Kearsney, Dolphin Coast
Kearsney lies just outside Stanger, now known as KwaDukuza (locals called it Dukuza long before the official name change), just inland of Durban's north coast.
To some of us 'Kearsney' immediately brings to mind the boys school up on Botha's Hill. And well it might as Kearsney manor, a beautiful old estate just outside KwaDukuza, was the original Kearsney College before the boys were moved. Kearsney (from the French 'cressoniere') means a place where watercress is grown and was the name of an old village and medieval manor in Kent, England, after which Liege Hulett (he of the tea and sugar empire) named his estate.
Kearsney is just inland from Blythedale Beach and Princes Grant, a beautiful, hilly part of the country given over largely to sugarcane farms and formal and informal settlements.
KwaDukuza is the historic capital of the Zulus and the famous place of Shaka's assassination. Shaka initially moved to the area after selling land around Bulawayo, his former kingdom in the heart of Zululand, to early settlers. Post Shaka's assassination two of his half-brothers, Dingane and Umthlangana staged a coup that burned the elaborate labyrinth of Zulu huts to the ground. European settlers built a new town on the very site and called it Stanger, after William Stanger – the Surveyor-General of Natal at the time.
But this area also has an eastern atmosphere, influenced in no small part by the Indian migrant labour force that arrived in this part of the country during the late 19th and early 20th centuries to work for the sugarcane barons of the time.
The area in and around Stanger is filled with buildings and places of historical relevance. The King Shaka Heritage Route includes Mavivane Execution Cliff or the Place of Shivering, High Rock, Mbozambo Valley, Fort Pearson, War Graves and the Ultimatum Tree.
In the vicinity
Hotels & other accommodation options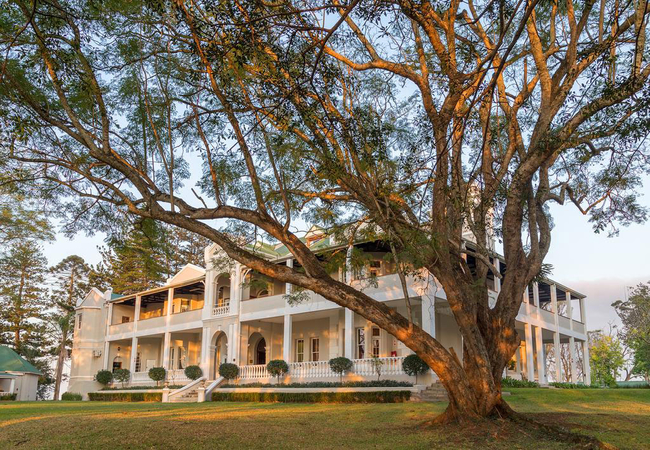 Hotel
Situated on an original sugar estate near Stanger, Kearsney Manor is an old English mansion built in the late 1800's by Sir Liege Hulett. This ma...
Noteworthy attractions
Find accommodation in Kearsney
FIND / South Africa Accommodation / KwaZulu Natal Accommodation / Dolphin Coast Accommodation / Kearsney Accommodation
Kearsney as a destination