Northern Cape Things To Do
Oudag se Koffiewinkel (Sutherland)
Categories: Cafés & Eateries / Restaurants: Cafés & Coffee Shops
Price group: On Request (see other things to do in this price group)
Available in the following region(s): Upper Karoo
Address: 20 Sarel Cilliers Street, Sutherland, Nothern Cape.
Telephone: +27 (0)23 571-1442
Opening hours: Monday to Friday from 09h00 to 16h30.
Saturdays from 09h00 to 15h00.
Closed on Sundays.
To see more restaurants:
South Africa Restaurants / Northern Cape Restaurants / Sutherland Restaurants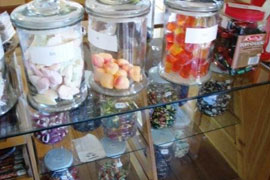 Come visit Oudag se Koffiewinkel next time you are in Sutherland! We have a lovely farm atmosphere, offering honest, traditional foods, friendly service and delicious filter coffee.

Our shop sells a variety of mainly locally hand-made arts and crafts, preserves, jams and more. We are famous for our freshly home-made pies hand-made candies. We also stock snacks like nuts, home-baked cookies and rusks, souvenirs and lovely artworks.You have to pop in while you're in Sutherland!

Discover Sutherland Tourism/Information office is situated on the same premises so if you need any advice or info about the area, please pop in - we will be glad to assist you with any bookings or advice. We are situated next to the Petrol Station, on your way to the
South African Astronomical Observatory.