Eating Out in Nelspruit

'The Yellow Caravan'

Cafés & Eateries Lowveld Legogote

Where? The Yellow Caravan, Parking Lot, Pick n Pay and Game shopping complex, 37 Citrus Crescent, Nelspuit, Mpumalanga.

When? Daily, as per shopping centre hours.

Overnight? Stay at accommodation in Nelspruit, in Mpumalanga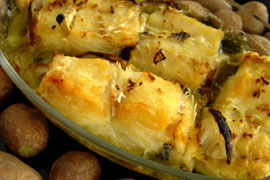 Portugal comes to Mpumalanga; Mozambique flavours wash inland.
A friendly yellow caravan stationed in the local strip mall parking lot has had trolley pusher's mouths watering and shopper's bellies satisfied for over a decade. Situated 200km inland from Mozambique, which was once a Portuguese colony and still is a spicy South African neighbour; Nelspruit has a Mozambican-born cook Sâo Hoffman spicing up the lot.
Lunch queues curve between the plastic red tomatoe sauce and bright yellow mustard bottles as the smell or steak carves through the air. Spices tickle your nose, aromas start you salivating and the sizzle from the grill cue the tummy grumbles. Popular Prego rolls are pushed out with a smile in a wax paper bag. Warm Portuguese rolls are smothered with well-matured high quality meat strips which have been soaked in a magic Mozambican flavoured marinade. For a killer kick a white wine, garlic and chilli sauce squeezes secrets of flavour onto the delicious hand held cuisine. Let the tasty juices run down the side of your mouth and the flour from the powdered roll stain your fingers for licking purposes. Chow down casually standing or leaning on the hood of your car for a car park picnic. Smack you happy lips together enjoying a scrumptious roll roadside alongside the locals.
Hot and hearty, cheap and cheerful, local and lekker.
Please Note
Business details can change. All information is published in good faith as supplied by the providers. Please check with the provider that the activity/business is still offered as described above, before making any travel plans.