Eating Out in Centurion

Hemingways

Cafés & Eateries Northern Gauteng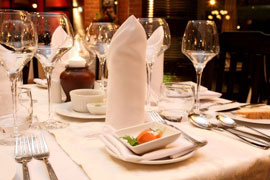 The 4- and 5-star Leriba Hotel and Spa is home to the acclaimed Hemingways Restaurant and Wine Cellar. This dining experience guarantees quality and elegance within tastefully decorated surrounds.
The minimalist approach is enhanced by French and modern Provençal touches to add a unique twist to the look and feel of the restaurant. The menu is frequently rated one of the best, and boasts dishes that are simultaneously down-to-earth and adventurous.
Fresh, seasonal ingredients add an unmatched quality to every plate. The wine cellar has a huge array of excellent wines, making Hemingways very popular amongst wine enthusiasts. There are pairing suggestions available for patrons that want to get the most out of their food and wine combination. Wines include many South African labels as well as select imports.