Things To Do in Grahamstown

Oldest Official Letterbox in South Africa

Miscellaneous Frontier Country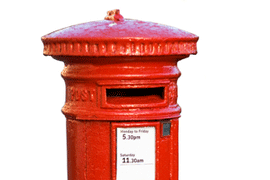 When was the last time you posted a letter or send a postcard? In today's world it is all electronic and instant, but one can't forget the excitement of receiving mail from the post office, be it a birthday card or a letter from an overseas friend! If you are in Grahamstown why don't you send someone a letter or postcard from the oldest official letter box in South Africa! You will find it on St. Andrew's College corner, at the north-west end of Worcester Street where it intersects with Somerset Street.
This box is painted in the traditional post office red and manufacture dates back to between 1857 and 1859. It no longer displays the letters "V.R" denoting the monarch, Queen Victoria, as this was stolen many years ago.
We can't give an exact date of when this was brought to South Africa and erected in Grahamstown but it is assumed to be between 1859 and 1860. This might not be the oldest letter box in the world, but it may just rank in to the world's top twenty. When you post a letter from this box it receives a special frank.